The Penguinr/c P3500RS Hi-Performance Chassis is the fourth performance chassis for the Micro RS4 Chassis. Based on the proven suspension design of the P3500/lm the P3500RS improves on that architecture by bringing features designed for the more dedicated racer.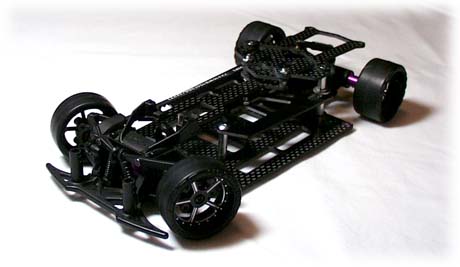 The P3500RS Chassis has been redesigned to modify the overall balance of the car to create a more neutral to oversteer feel while increasing the chassis responsiveness. This has been done by increasing the thickness of the chassis to M2.0 Quasi Grade Graphite with a slotted balanced cell layout while moving the weight of the car to a more centered and lowered position. Along with the chassis change we have made the Vertical mounting of the servo standard (HPI Dual Link servo kit or equivolent and Hitec 81series or similarly sized servo is required) to better handle the steering duties of the car. This car is pure bred for racing and as such gives up some of the convinence of the P3500/lm, however, the car is still capable of using standard Pre-built Battery packs when used with the P3505 battery plate.

Note: Do to the more compact orientation of the P3500RS small size electronics are recomended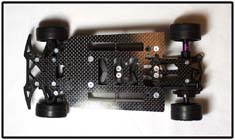 click on picture for larger view
The P3500RS retains the race proven suspension system of the P3500/lm. The advantages of this system include the ability to adjust the rear of the car to gain or reduce traction and/or roll according to the track surface and driving style of the user. There are a total of 12 plates (4 soft, 4 medium, and 4 hard) in all, 6 in each Quasi-Grade Graphite and G10 Fiberglass. These plates are separated evenly into high and low roll options for each material. Three Graphite High Roll Plates are included with the P3500RS chassis kit. All the plates are available separately in G10 or Graphite, Low or High roll sets.

The RS includes many additional features that are listed below.

P3500RS features:
M2.0 Graphite Slotted 7-Cell Chassis (KAN Compatible)
M2.0 Graphite Upper Deck w/ Vertical Servo Mount.
M2.0 Graphite Rear Deck (VCS Compatible)
Dual Battery Hold Down Plates (independently removable)
3 High Roll Graphite Suspension Plates (12 available)
87mm chassis width for greater body compatbility.
180 Size Graphite Motor Plate
Tweak Adjustment Option
Zinc Coated Hex Drive, Tapping Screws, and Hex Key


List Price: $74.99
Part Number: P3500rs





Now Availible
for a limited time...
P3500/lm Special Edition in
Ice Blue or Silver SSG Style Graphite.
click here to see the special edition...




---

P3500RS Replacement Parts List:



P3501rs
P3502rs
P3503rs
P3504
P3505rs
P3507a
P3508m180

P3500rs Main Chassis
P3500rs Upper Deck
P3500rs Rear Deck Kit (VCS compatible)
P3500 Rear Pod Kit
P3500rs Battery Plate Kit
P3500 Graphite High Roll Plate Set
P3500/Micro Graphite Motor Plate (180 size)

$28.99
$8.99
$28.99
$12.99
$14.99
$8.99
$5.99

$
$
$
$
$
$
$



P3500RS Option Parts List:



P3505
P3506a
P3506b
P3507a
P3507b
P3508
P3508m300
P3508m400
P3509rs

P3500 Center Battery Plate
P3500 G10 High Roll Plate Set
P3500 G10 Low Roll Plate Set
P3500 Graphite High Roll Plate Set
P3500 Graphite Low Roll Plate Set
P3500/Micro Micro Servo Mount
P3500/Micro Graphite Motor Plate (300 size)
P3500/Micro Graphite Motor Plate (400 size)
P3500rs Raised Cell Assembly Jig

$3.99
$8.99
$8.99
$8.99
$8.99
$3.99
$5.99
$5.99
$4.99

$
$
$
$
$
$
$
$
$



Click on blue $ to add replacement parts to your PayPal web cart.


Click here to Download Direction Manual:


If you have any questions or comments regarding this chassis conversion please feel free to mail us at support@penguinrc.com


©2004 Penguinr/c