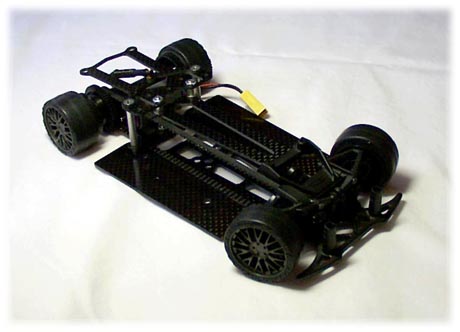 The Penguinr/c P3500lm LeMans Performance Chassis is designed to allow maximum placement opportunities for your electronics. This chassis set has all of the same great features of the standard P3500 Performance Chassis. Advantages to using this chassis include increased torsional stiffness with a lowered center of gravity through the mounting of the electronics on the lower chassis.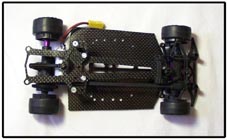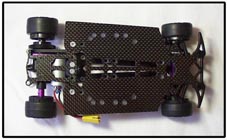 click on picture for larger view
The newly developed rear roll system is one of a kind in this class of car. This roll system retains a completely flat chassis while providing maximum rear pod adjustability. The advantages of this system include the ability to adjust the rear of the car to gain or reduce traction or roll according to the track surface and driving style of the user. There are a total of 12 plates that are available (4 soft, 4 medium, and 4 hard). In each set there are 2 pairs of plates, one made from G10 Fiberglass and the other from Quasi-Grade Graphite Plate consisting of a low and high roll option for each material. The 3 graphite low roll plates are included with the standard P3500lm chassis kit. All the plates are also available separately in G10 and Graphite, Low and High roll Sets.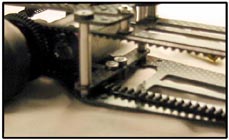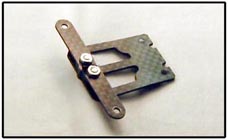 click on picture for larger view
At the rear of the P3500lm we designed a new rear deck system. This graphite rear deck allows use of any style shock currently on the market. This innovative deck allows the use of aftermarket oil filled shocks with either wheelbase setting without having to readjust any shock settings (when shock length is the same as stock).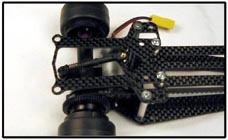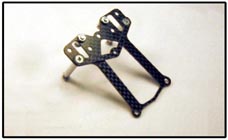 click on picture for larger view
In addition to all of the features mentioned above, the P3500lm's chassis is mounted .5mm lower eliminating the belt friction associated with the standard Micro. The P3500 includes a quick release center battery mounting plate to allow use of many different style batteries packs without interfearing with the belt. This plate P3505 can be purchased separately to allow mounting of several packs before installation in the P3500. The P3500lm also has two battery mounting options. These options are The P3509a saddle pack battery plate kit which creates a saddle pack style mounting system for the LeMans car by use of two quick release plates, or the P3509b Bullet plate kit which creates a similar layout in which sells are put end to end down each side of the chassis. The P3509b kit also has weight adjustibility from front to rear. The P3509c is the same as the P3509a in layout but allows mounting of 8 cells.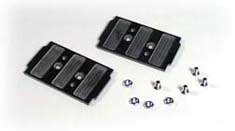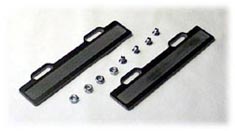 click on picture for larger "on car" view
The P3500lm, in 150mm mode, allows adjustment of the saddle packs or center mount battery pack to two different positions for weight balance. The 150mm mode also allows the option of using the standard size HPI Upper Deck or our Standard Upper Deck Option (P3502s) when using the 150mm format. Using one of these decks will retain the use of the standard HPI Battery mounting System.

The P3500lm chassis kit includes Upper (now includes P3502v upper deck), Wide Lower, and Rear Chassis Plates made out of M1.5 Quasi-Grade woven carbon graphite plate, M2.0 Rear Pod Plate, P3507b Low Roll Plate Set (3 Graphite roll plates), P3505 M3.0 G10 Battery Plate, Directions, and all hardware required to convert your Micro RS4 to the P3500lm.


List Price: $64.99
Part Number: P3500lm




Pictures shown may differ slightly from Actual P3500lm.


Now Availible
for a limited time...
P3500/lm Special Edition in
Ice Blue or Silver SSG Style Graphite.
click here to see the special edition...




---

P3500lm Replacement Parts List:



P3501lm
P3502v
P3503
P3504
P3505
P3507b

P3500lm Main Chassis (wide)
P3500 Vertical Upper Deck
P3500/Micro Rear Deck Kit (VCS compatible)
P3500 Rear Pod Kit
P3500 Center Battery Plate
P3500 Graphite Low Roll Plate Set

$33.99
$10.99
$24.99
$12.99
$3.99
$8.99

$
$
$
$
$
$



P3500lm Option Parts List:



P3501
P3502
P3502s
P3504l
P3505
P3506a
P3506b
P3507a
P3507b
P3508
P3508m180
P3508m300
P3508m400
P3509a
P3509b
P3509c

P3500 Main Chassis (narrow)
P3500 Upper Deck
P3500/Micro Upper Deck (standard)
P3500 Rear Pod Kit for 400 Motor
P3500 Center Battery Plate
P3500 G10 High Roll Plate Set
P3500 G10 Low Roll Plate Set
P3500 Graphite High Roll Plate Set
P3500 Graphite Low Roll Plate Set
P3500/Micro Micro Servo Mount
P3500/Micro Graphite Motor Plate (180 size)
P3500/Micro Graphite Motor Plate (300 size)
P3500/Micro Graphite Motor Plate (400 size)
P3500 Saddle Pack Mount Kit
P3500 Bullet Pack Mount Kit
P3500 8-cell Pack Mount Kit

$23.99
$8.99
$10.99
$16.99
$3.99
$8.99
$8.99
$8.99
$8.99
$3.99
$5.99
$5.99
$5.99
$8.99
$8.99
$10.99

$
$
$
$
$
$
$
$
$
$
$
$
$
$
$
$



Click on blue $ to add replacement parts to your PayPal web cart.


Click here to Download Direction Manual:


If you have any questions or comments regarding this chassis conversion please feel free to mail us at support@penguinrc.com


©2003 Penguinr/c