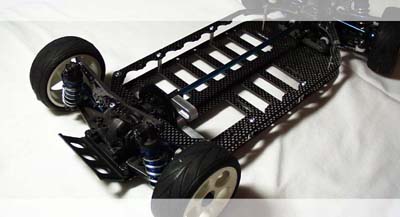 production prototype shown, actual production may vary
Here is your chance to own the most advanced TC3 chassis currently in production. The Pre-Production prototype for this chassis dominated the 2004 ROAR region 3 Championships in the hands of Mike Collins taking both Stock and Modified Classes. The Penguinr/c P5500tc3 is very similar to the Pre-Production car differing only in the motor mount design that is included with the car. The Penguin r/c aluminum motor mount is of an open end design which allows for a large range of gear ratio selection along with the ability to remove the motor without having to remove the pinion. This design motor mount allows the motor to sit as low in the chassis as posible through it's entire gearing range for the lowest CG availible.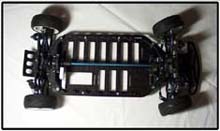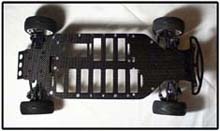 click on picture for larger view
Some of the P5500's advanced features include Full Graphite M3.0 Shock Towers which include three extra roll center adjustments, three extra shock mounting locations on the front, and one extra shock mounting on the rear (Front and Rear interchangable, shown below), Left or Right Servo Mounting Locations, Adjustable Flex M2.5 Chassis (via side rail posts), Right Side Battery slots for offset battery location, center front body post adaptor, M2.0 Graphite Corner Braces along with the innovative motor mount. The P5500 has several different battery attachment methods which include use the Stock Battery Brace, Velcro Straps screwed to the chassis (not included), or strapping tape. The P5500 at the lower chassis is no wider than the standard TC3 molded chassis allowing for the same ground clearance characteristics of the original and is barely wider overall at the side braces.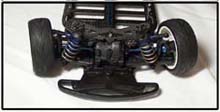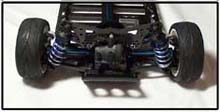 click on picture for larger view
Included in this kit is the following - M2.5 Quasi Grade Graphite Chassis, M2.5 Quasi Grade Graphite SideBraces(x2), M2.5 Quasi Grade Graphite Shock Tower Mounting Kit(x2), M2.0 Quasi Grade Graphite Corner Braces, M3.0 Quasi Grade Graphite Front and Rear Shock Towers, M2.5 Center Body Post Adaptor, Aluminum Standoffs, Screws, and Directions required for conversion.





List Price: $184.99
Part Number: P5500tc3
Reduced: $149.99







---

P5500tc3 Replacement Parts List:



P5501tc3
P5502
P5502tc3
P5503
P5504a
P5504b
P5505tc3
P5506tc3
P5507tc3

P5500tc3 Main Chassis
P5500 Side Rail Kit (x1)
P5500tc3 Corner Brace Set
P5500/TC3/TC4 5th Body Post Mount Kit
P5500 Chassis Stiffening Kit
P5500 Battery Bar Post Kit
P5500tc3 Aluminum Motor Mount
P5500tc3/TC3 Front Shock Tower Kit
P5500tc3/TC3 Rear Shock Tower Kit

$59.99
$19.99
$18.99
$4.99
$11.99
$5.99
$34.99
$24.99
$24.99

$
$
$
$
$
$
$
$
$



P5500tc3 Option Parts List:



P5504a
P5508
P5509a
P5711
P5712

P5500 Chassis Stiffening Kit
P5500 Nerf Wing Set
P5500 Velcro Battery Strap Kit
TC3/TC4 G10 Quick Release Battery Bar
TC3 G10 Front Bumper / Arm Protector

$11.99
$8.99
$13.99
$5.99
$6.99

$
$
$
$
$



SALE!!! items indicated in red.

Click on blue $ to add replacement parts to your PayPal web cart.


Click here to Download Direction Manual:


If you have any questions or comments regarding this chassis conversion please feel free to mail us at support@penguinrc.com


©2005 Penguinr/c