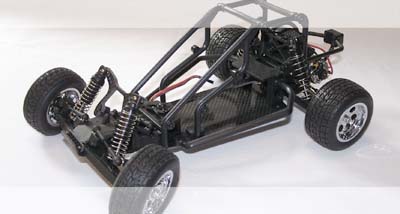 The Penguinr/c P4720 Performance Chassis for the Losi Mini-Slider is a suite of parts designed not only to improve the looks of your car but the performance as well. Our chassis kit starts with a solid plate M2.0 lower chassis. This chassis is made from Quasi Grade Graphite which not only improves tortional stiffness but the overall weight of the chassis is reduced by approximately 50%. This chassis is paired with a new M2.0 Graphite Battery strap that is thinner in width but much stronger to provide better a hold on the battery.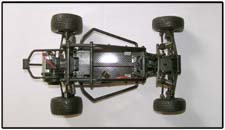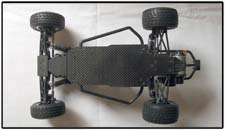 click on picture for larger view
In addition to the main chassis components, the P4720 comes with a new M3.0 Quasi Grade Front Shock Tower which significantly reduces flex and provides an additional 2 shock mounting positions over the original plastic tower. This tower also is redesigned to minimize the binding of the shock through its motion. To complete the full P4720 kit, M1.5 Graphite front and rear suspension braces and a M1.5 Graphite Motor Plate with a larger gear hole are provided. This larger hole in the motor plate allows removal of the motor wthout having to remove the pinion on a wider range of gears.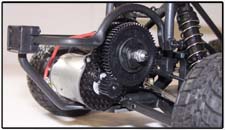 click on picture for larger view
List Price: $49.99
Part Number: P4720







---

P4720 Replacement Parts List:




P4721
P4722
P4723
P4724


P4720 Graphite Main Chassis Plate
P4720 Graphite Battery Plate
P4720/Mini-Slider Graphite F. Shock Tower
P4720/Mini-T/Slider Suspen./Motor Plate Kit


$26.99
$10.99
$17.99
$15.99


$
$
$
$



P4720 Option Parts List:



| | | | |
| --- | --- | --- | --- |
| P4721r | P4720/Mini-Slider M2.5 Racing Chassis Kit | $42.99 | $ |


Click on blue $ to add replacement parts to your PayPal web cart.


If you have any questions or comments regarding this chassis conversion please feel free to mail us at support@penguinrc.com


©2008 Penguinr/c